History
The year 1410: the origins
The name of the Reutlingen-based Bantlin family can be traced back to the year 1410. The company history itself began around 1752 with Georg David Bantlin's leather goods shop situated at what is today known as Nikolaiplatz (Nikolai Square) in Reutlingen, Germany. There are few companies in Germany which boast such a long tradition.
The year 1875: the succession
It was in 1875 that the great-grandson Paul Wilhelm Bantlin founded the currently existing Bantlin company, along the bank of the Echaz River, on Emil-Adolff-Straße (Emil-Adolff Street) in Reutlingen. At the time, the company consisted of the tannery and a factory for manufacturing drive belts and saddlery products, using leather it had produced in tanning pits. The global economic crisis of the early 1930s did not leave the company's business untouched. Work could only be done on one or two days a week during this period. Only an 'emergency trip' to Berlin in 1940 spared Paul Bantlin from being drafted for military service during the Third Reich. This initiative ensured that production operations could continue in Reutlingen.
In the post-war years, the tannery operations were gradually brought to a halt. This occurred in order to specialise in the further processing of already tanned leather, for transmission belts and technical leather products of all kinds. The years of the economic boom in Germany provided the Bantlin company with good and successful business.
The year 1875: the heritage
In 1958, Paul Lothar Bantlin passed the company on to his sons Hans and Paul. Together, they shaped the destiny of the company, now in the form of a GmbH (German approximate equivalent of a private limited company), with great success – located from 1961 onwards in the newly built company building on Bismarckstrasse (Bismarck Street) in Reutlingen.
The year 2001: under new leadership
In 2001, the company was taken over by Dr Rigo Herrmann and Martin Janessa, Bantlin employees at the time. The two managing directors are committed to both the tradition of the long-established company and ongoing innovation. This means combining the aspects of quality, high performance and a view towards the future at their finest. To date, this ensures the company's position on the international market: Bantlin GmbH is one of the leading specialists in the production of technical leather products for industrial use and technical wholesale.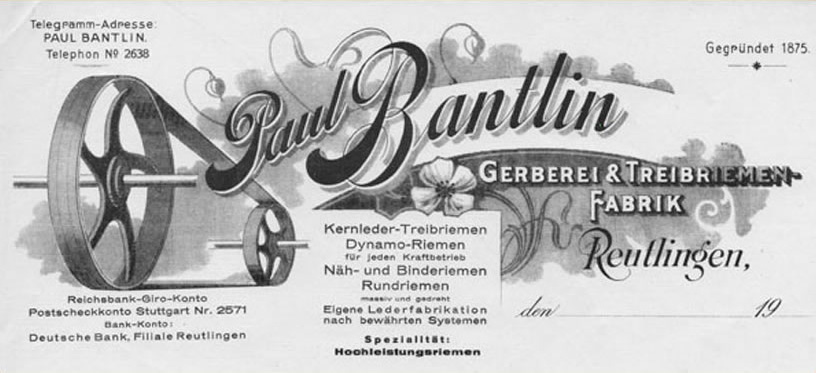 It was in 1875 that Paul Wilhelm Bantlin, the great-grandson of founder Georg David, established the company Bantlin, which still exists today in similar form, along the bank of the Echaz River, on Emil-Adolff-Straße (Emil-Adolff Street) in Reutlingen.